Release 2019/7
We are happy to announce our 7th Feature Release of 2019 including a bunch of new features, improvements and bug fixes.
If you are a SoccerLAB customer don't hesitate to ask for some extra explanations through the support channels.
If you are not a SoccerLAB customer yet. What are you waiting for ? Contact our sales team now at info@soccerlab.com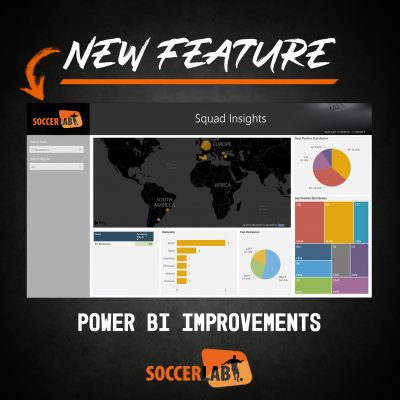 Power BI Improvements
New reports are available:
Check in one dashboard all physical tests per team and per player. Compare player results with his or her historical data and with team averages. See progress per player.
Monitor weekly your trained objectives.
Improved game reports: visualize all game statistics in one dynamic dashboard.
Compare players based on your own scouting criteria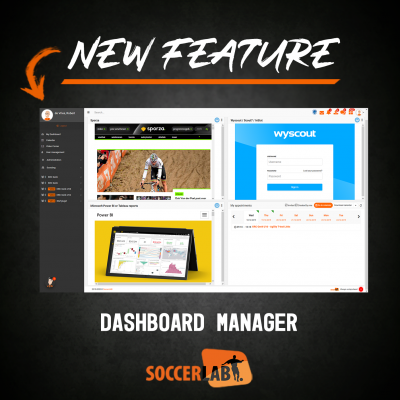 Dashboard manager
Embed URL's from other websites in your dashboards (Main / Team / Player dashboards). If you check several sites on a daily basis, you can have a direct access.
You can add scout reports and check player profile at Transfermarkt for example on the same SoccerLAB dashboard, You will have all relevant info centralized in one overview.
Besides websites, you can also access internal Power BI or Tableau reports directly on your dashboard(s).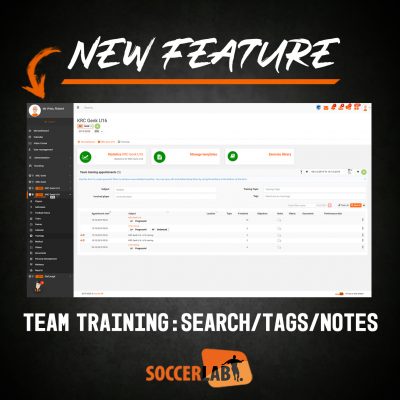 Team training module
Add tags to your training session and use our
search function
to find back the specific training session based on your tags.
You can find the medical notes also in the training session -> injury prevention.
Obligate your coaches to create sessions on behalf of your club templates (uniformity!)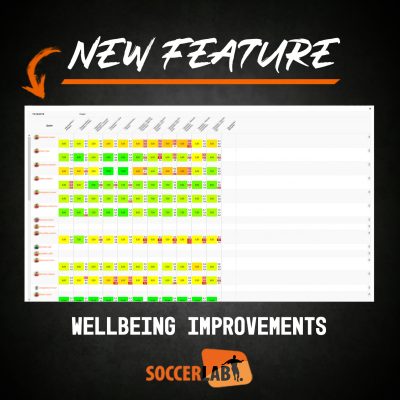 Wellbeing
Lock the header of the team wellbeing overviews and check the new full screen option.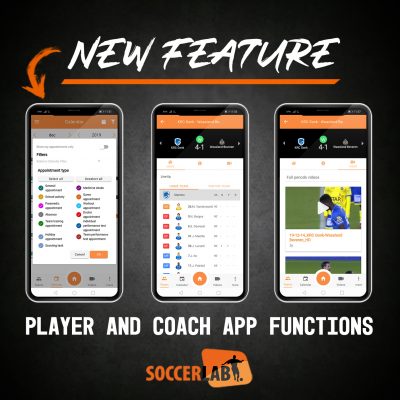 Player and Coach App
More calendar functionalities: use advanced filters to find training sessions, games, school appointments, … easily
Check line ups, game stats and all video footage on your Apps
NEW FEATURES & IMPROVEMENTS
Improvement SHB-5050 Team evaluations: option so SHARE a report is missing
New Feature SHB-5014 Enable dashboard system on external players
Improvement SHB-5046 Tasks – change the order of the "Tabs" for more common sense
New Feature SHB-5149 Keep showing the 'embedded content' widget while already in use (like the spacer widget)
Improvement SHB-5081 Game evaluation of a player – the check-box should be OFF by default
Improvement SHB-4409 Medical – Current State lock the header – so the info stays visible when you scroll down
Custom Feature SHB-5055 Update Dutch Translation
Improvement SHB-5045 Pre and Post game analysis – allow MULTI-SELECT when adding Game analysis pages from the library
Improvement SHB-4408 Wellbeing – lock the header – so the criteria stays visible when you scroll down
New Feature SHB-4844 Integrate Userlane in application
New Feature SHB-4870 Widget – Training minutes team
Improvement SHB-4865 Documents – add filter SEASONAL TEAM inside the document list view
Improvement SHB-3902 Online analysis – improvements after testing by Robert
Improvement SHB-2191 Games – Inside the game form we also need a button to "Save and finish" a game
Improvement SHB-4801 Games – technical staff is not automatically invited like players therefore they miss out on appointments
Improvement SHB-4443 Team training: show the MEDICAL NOTES form Current state inside the team training
New Feature SHB-3184 Calendar – Different views – better overview for teams, hour, location
Improvement SHB-4328 Rename shortcut to create scoutreport within games
Improvement SHB-3412 Team training – synchronise INVITED USERS and ATTENDED PLAYERS
New Feature SHB-4577 Player profile – add tags
Custom Feature SHB-5056 German Translation
Improvement SHB-4876 When you create an appointment at the row of a player, the user expects the participant to be filled in
Improvement SHB-4974 We need to improve the response of the get calender events for games and teamtrainings
Improvement SHB-3646 Enable sharing for objects on various pages
Improvement SHB-4444 Team – Performance: add option to ADD performance results from the team overview
Improvement SHB-4862 Report templates – options to SHARE is missing
Improvement SHB-4930 Scouting – Spider charts – create an option to see the details per category (like in Personal development
Improvement SHB-4207 Scouting – scout report – show "last known seasonal team" behind selected player is missing
Improvement SHB-571 My appointment widget – Absence
New Feature SHB-5037 Spider chart options in scouting and personal development – also show 1 report in a spiderchart
Improvement SHB-4928 Make room on SLBuild's C disk to allow proper builds to happen
SHB-4941 When there is an injury mentioned by manual overwright in the current state, the ATTENDED PLAYERS in a training is not mentioning this
SHB-5134 The wellbeing screen of a team still has some issues after the update of the scrolling feature
SHB-4980 Dashboard manager – SCOUTING widget for Trainer dashboard is not working
SHB-5118 Personal development – when a report is marked as "Is deactivated" still the already created reports should be shown
SHB-5146 Error "Notification could not be sent" when selecting many users / workgroups at once
SHB-4682 Update the Polish translations 02/04/2019
SHB-5131 As a user i may not see scout reports of other players on the scout report page of a specific player
SHB-5112 Add step button gone inside managing content of team training
SHB-5027 Calendar API calls fail when InvitedUser.WasAbsent is null in DB
SHB-5040 Current State is not syncing from personal injuries
SHB-4945 Print Game Sheet – new options not available on Rapid Wien
SHB-5105 Team anthropometry – Latest measurement is wrong, this is sorted by CREATION date, but should be the actual MEASUREMENT date
SHB-5113 It seems phv age gets reset on player when Master / slave syncher updates the person
SHB-5130 Scout reports are unsorted in qsdcScoutingReportsSynopsis
SHB-5133 The HEADER on the dashboard is to HEIGH, problem with css class?
SHB-4925 Administration -> Persons: not possible to create a new person via the PERSON menu
SHB-4998 Administration -> Persons: creating a new person keeps loading after SAVE
SHB-4957 MasterSlave syncer must be allowed to create duplicate seasonal teams (which can later be merged)
SHB-5126 Wellness screen – Z scores are now displayed outside the box
SHB-4334 Information on the availability of players doesn't take into account manual overrides for TrainingParticipationStatus and CanPlay
SHB-5080 Team Performance overview – Only 1 test is showing (should show all tests that are filled in this season)
SHB-5067 Read out application settings to take into account manual overrides for TrainingParticipationStatus and CanPlay
SHB-5110 When I edit an anthropometry record and i change the timestamp the record gets duplicated by the backend
SHB-5116 When uploading an XML the time of the events are not asjusted when you "set" the time for the 1st and 2nd period
SHB-5005 XML upload – when uploading an XML file on a MACBOOK the timeframe is off for 10-15 seconds
SHB-5111 Customers cannot create game analysis pages coming directly from library when those page templates are not having a pageformatid
SHB-5109 Physical profile widget is not saving the configuration settings
SHB-4856 Calendar – when you edit a recurrence the choosen DAYS are empty
SHB-4926 Team evaluations inside the game overview – the VIEW option is GONE
SHB-5064 Medical – Injuryoverview inside the Player Profile – not possible to SHARE, should be inside the action buttons
SHB-4509 Internal evaluations inside a team: we always show "12:00" as time stamp
SHB-5049 When you watch a video via ANNOTATE ONLINE there is no ENTRY inside the VIDEO LOG!
SHB-5091 The percentages in medical status history bar are not rounded
SHB-5047 Games – creating new player gives issues inside the game form (Line-ups)
SHB-5099 Fix the GetMyPotentialPlayers command in the back end
SHB-5076 Tags – searching for tags is not ok in scouting -> Search players
SHB-4948 Cannot edit old paramedic / doctor appointments anymore
SHB-5031 Seasonal team – Staff is not shown and it is not possible to add Technical staff it is a team not related to MY CLUB
SHB-4967 Widgets in some dashboards are shown above each other
SHB-5075 Scouting – Scouting planner does not open up anymore on CURRENT WEEK
SHB-5006 Player development – question about sharing is missing (due to switch to clubbrowsing instead of club forms?)
SHB-4969 Team calendar – when the name of the player is too long we do not show the name at all
SHB-5094 Typo in AssignedGenericTag -> AssingedGenericTag causing trouble in the backend
SHB-5092 We cannot erase progression inside paramedic or doctor appointments
SHB-3691 Scouting – search by SCOUTING SOURCE is not possible
SHB-5053 Team evaluations – Error in header when you EDIT a team evaluation report
SHB-5048 Wellbeing – inside the player profile history – we do not show the selected "List" answer (in case of drop-down)
SHB-4904 Widget – TOPSCORES: height of the widget should be a bit bigger by default so no scroll bar is shown
SHB-4905 Widget PLAYER AVAILABILITY – switch the order of the 3 topics
SHB-5028 When a scouting appointment gets deleted we may not automatically delete the attached scout reports
SHB-5084 Tags not loading on search persons screen
SHB-5095 Problem with "Native update script: merge the multiple AnthropometryRecords existing on the same MeasureDate for a person"
SHB-5033 AvailabilityStatusGenerator saves wrong status information
SHB-5060 Anthropometry records gets created twice on same day when using bulk add method in handsontable
SHB-5061 When pressing save and next inside the soccer history i still get question do you want to save??
SHB-5059 Don't [show object] object when not having rights to read tags
SHB-4999 Player positions are not using resource keys inside the scout reports view
SHB-4968 Medical status history is always empty
SHB-5078 Cancel next and back button broken when entering a scout form
SHB-4623 Nothing visible when switching from external to internal profile
SHB-4903 When you search of open a playlist, it is not sorted by date
SHB-5077 Scouting – The AVERAGE of a category is broken
SHB-5079 Transclusion bug inside the scouting form
SHB-4605 General Application Settings for Language need to be added so that it is set as a default language if the user does not set his language
SHB-5043 Scouting – printing of a report: the print shows a different name of the possition then the position marked on the pitch (still not ok)
SHB-5004 German Translation – 20191008
SHB-5065 It seems the title on the scouting planner page is not properly set anymore
SHB-4924 Game evaluations and Team training evaluations inside the player profile – not ALL averages are shown
SHB-4997 My Teams – My teams overview is not sorted anymore, should be sorted by age category (senior team first, then sorted descending)
SHB-5058 We get unnesary errors when an end user has no rights on generic tags
SHB-5013 Invited Users inside Paramedic Appointment are not getting updated after saving the Paramedic Appointment.
SHB-4988 Non-regular players not filtered correctly by contract on team players overview page
SHB-5000 Scouting – printing of a report: the print shows a different name of the possition then the position marked on the pitch
SHB-4984 Notification is not sending when we unchecked 'Soccerlab mobile applications'
SHB-5036 Recurring all day appointments not OK before/after daylight savings time