Scouting App 1.0.0
We are happy to announce our brand-new Scout App!
Besides the known features of our mobile apps like videos (incl. upload), documents and tasks, Scouts can now enter their reports via the app and check their scouting appointments.
If you are a SoccerLAB customer don't hesitate to ask for some extra explanations through the support channels.
If you are not a SoccerLAB customer yet. What are you waiting for? Contact our sales team now at info@soccerlab.com
Dashboard
The dashboard allows you to navigate through the main functions and shows your next scouting appointments and recent reports. You can start entering new reports directly from here.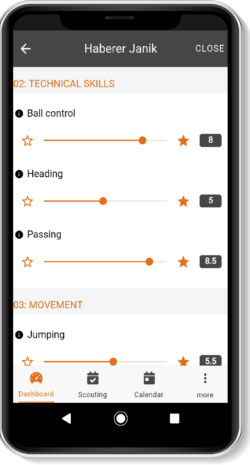 Enter your scout reports
Full functionality as inside our web application, you select a game, player, tactical position, your scouting template and you score the player based on your template.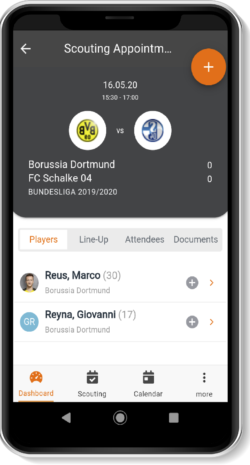 Your scouting appointments
Check your upcoming scouting tasks and enter your reports directly from here. Planned players are highlighted and additional documents can be attached.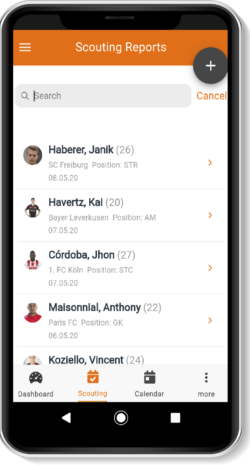 Browse your scouting reports
Based on your rights, you have access to all scouting reports, the quick search helps you to find directly the player you are interested in.
Additional features and functionalities
Calendar: only appointments according to the rights of a user are shown
Calendar: check documents and comments added to appointments
Notifications: send messages to users and workgroups
Notifications: receive push notifications with direct links to videos, documents, appointments and tasks
Documents: access to all your personal and shared documents
Videos: access to all your personal and shared videos, incl. upload function
Security: Pin recovery information is added
Settings: save personal settings like showing comment boxes or how to use the slider for scoring
…
Check our webinar about the Scout App
Our release notes showing details about the new features and improvements of all mobile apps and the new Scout App can be checked here: