Rajeshkumar Gone
Software Engineer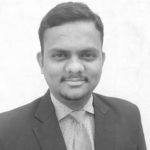 Engineering robust, focus based, efficient and result-oriented team player, offering 5 and half years of experience of different transforming technologies in Computer Science. In parallel, I am doing research in the subdomains of artificial intelligence and I recently published my first research paper.
Latest invention and discoveries attract me a lot, and because of my involvement in this, reading articles on the internet related to the same domain became one of my hobbies, Listening music often gives me a mental relaxation and occasional cooking gives me an opportunity to make others happy and enjoy the smile on their faces while having food.
Hate to eat raw onion, Love to play/spend time with KIDS.
Rajeshkumar's Favourites
Sports
HOBBY
FOOD
DRINK
FILM
TV
BOOK
MUSIC
HOLIDAY
PERSON
Carrom
Listening Music
Fish fry
Kiwi Juice
3 Idiots
Swarabhishekam
Vedic Mathematics
Contemporary Songs
Diwali
Simon Cowell
Quote
Imagination is more important than knowledge
Albert Einstein