Release 2020/2
We are happy to announce our 2nd Feature Release of 2020 including a bunch of new features, improvements and bug fixes.
If you are a SoccerLAB customer don't hesitate to ask for some extra explanations through the support channels.
If you are not a SoccerLAB customer yet. What are you waiting for ? Contact our sales team now at info@soccerlab.com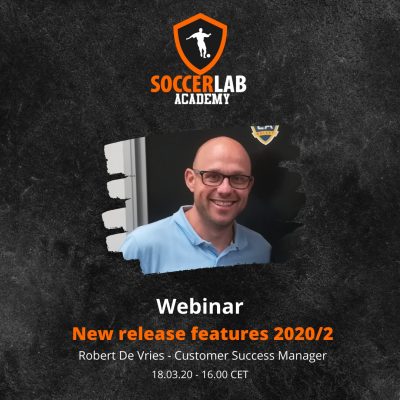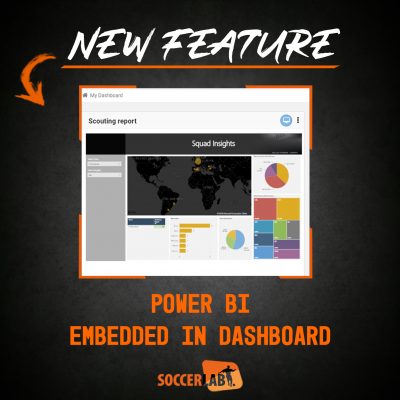 Extra power for Power BI
We have put some nitropower to our Power BI reports in this release.
Reports can now be added into any dashboards as a widget
We have enabled reports on team level so a broader audience can see those cool, neat charts
The Advanced Reporting module is an add-on. Contact your Customer Success Manager to get the power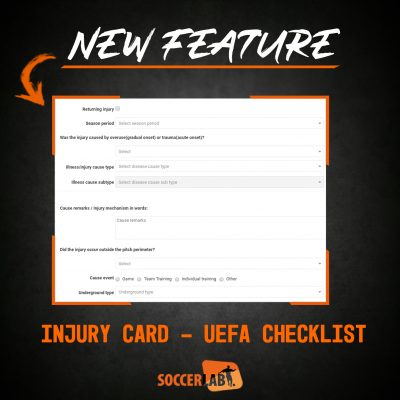 UEFA-compliant injury reports
Our medical module is enhanced to be compliant to the UEFA standards.
All our great customers playing in the UEFA Champions League or UEFA Europa League can benefit from having the same clear standard in both systems.
Ask your Customer Success Manager to enable this feature.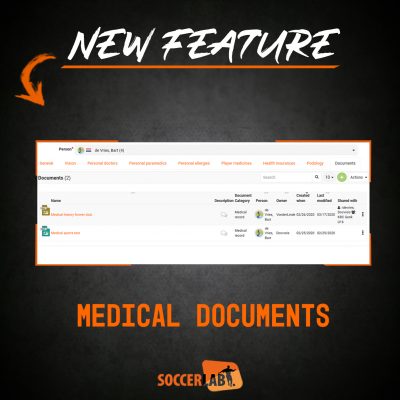 Couple a document to a Medical record
Add a document of proof when adding a medical record to your players.
Of course our permission system makes it  possible to be GDPR-proof and limit the access to those records.
Medical records are general information like bloodgroup, eyeglass prescription).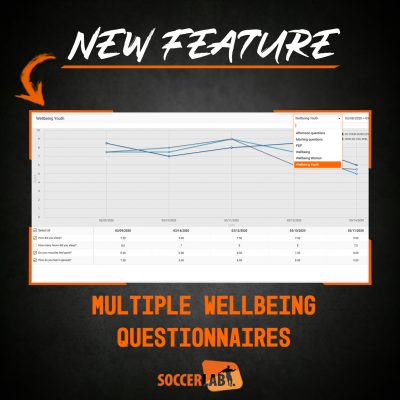 Questionnaires whenever you want
Our wellbeing questionnaire is one of the most used features of our platform.
In this release we expand the possiblities to schedule more questionnaires whenever you want in a single appointment or an appointment series. Every questionnaire can be targeted to a selection of teams, users or departments.
Example usages will be explained the webinar, but there are endless possibilities to use this.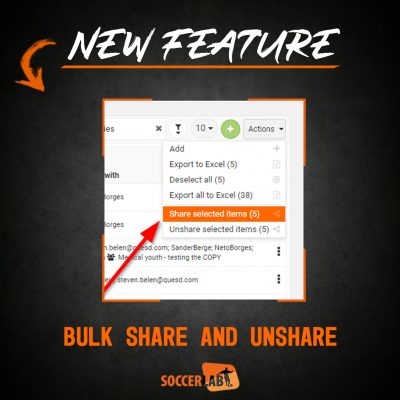 Easier sharing with your colleagues
With our new multi share feature we have made it easier to share documents, reports and other objects with a selection of users.
A real time-saver for all!
NEW FEATURES & IMPROVEMENTS
Scouting – Add a checkbox (Boolean) inside a scouting task coming from the Scouting planner, so we can filter on this
CBD-30 Notifications cannot be sent and history is not showing anymore
KGD-106 Power BI reports of scouting not visible for Dirk Schoofs (head scout)
KGD-107 ORTEC values not shown
KGD-108 Edit confic setting medical module: as a doctor I want to insert the prognosis date in the injury card
KGD-85 As a user I want that the filter in the wellbeing section works exactly the same as the filter in my team overview
LDP-29 Print Out Game – players who are substituted have the first name of the player against whom they are substituted in
OD-59 Player appears in team as season player for a team she never played for
PCD-122 As a user I want to be able to add the tile player game events on the dashboard of players
PCD-128 Head coach is also shown as Player in the squad
PCD-143 Filter Scouted player –> score not working: As a user I want to see only the players that were scouted using this template
PCD-176 Change username
PCD-177 Ortec tab visible in Parma enivornment
PCD-183 Text search or filtered search based on user is not working properly inside the scouting planner
PCD-46 The date of birth fields are behaving strangely when the to date field is adjusted
PSVDEV-121 PSV – User does not see ALL EXECUTED team training appointments
RWD-107 BI Report Custom Report – Player Sonnleitner missing on KPI Dashboard
RWD-117 Show Scores instead of stars inside the list view of player evaluations in player profile
SDD-44 Wrong PIN Code shown in the App widget inside webapps
SDD-45 Anthropometry Data of a player wrongly filled
SDD-46 Wellbeing page of player profile not working
SHB-2625 My documents: hide document TYPES if a user has no rights for it
SHB-2972 The no rights issue is seen for a person,even after he has no rights to view.
SHB-2973 Testing
SHB-4055 Video player – PIN the bar by default (now it disappears)
SHB-4315 Scouting – Add a checkbox (Boolean) inside a scouting task coming from the Scouting planner, so we can filter on this
SHB-4778 Scout reports printing – when you type a lot of text, the text is printed inside the header of the next page
SHB-4931 When merging seasonal teams we also need to check the calendar filters having seasonal team ids inside
SHB-4942 Update merge tool that when seasonal teams or teams are merged also the my teams related to the user accounts are updated
SHB-5023 Athletes are visibible within teams but are not visible from home screen > athletes
SHB-5068 Backend: Add new boolean IsPlannedScoutingTask to EvaluationReportPlayerScheduleInfo
SHB-5069 Backend: Extend solr supporting the new boolean IsPlannedScoutingTask
SHB-5070 FrontEnd: Extend scouting appointment dialog supporting the IsPlannedScoutingTaks boolean
SHB-5071 FrontEnd: Extend filter screen in calendar view to filter on planned scouting tasks
SHB-5072 Backend: Upgrade script to mark all old scouting reports as planned scouting tasks
SHB-5073 Frontend: Update the scouting planner screen to only see the planned tasks
SHB-5074 Backend: Update command to create a scouting report
SHB-5142 Sharing of videos doesn't sent notification
SHB-5170 Appointments in calendar are shown double
SHB-5173 Report server not working together with api-gateway
SHB-5220 X-check new features Panega vs SoccerLab
SHB-5227 Solr service down (for beta.panegasports.com)
SHB-5232 Games – Game wizard – when creating a game for the new season, the "season" keeps switching back after saving
SHB-5238 Solr update not working on some environments because download plink.exe suddenly fails
SHB-5240 Update merge logic to resolve AttendedPlayer.RelatedSeasonPlayerId for deleted seasonplayers
SHB-5243 Merge tool – error when both players have a FEDERATION MEMBER CODE
SHB-5246 questionnaire appointment broken on beta.soccerlab
SHB-5247 AZ physical profile radar chart widget still not OK
SMCA-298 Logos not rendering correct
CBD-29 Mistake in import scouting youth – player not linked to the correct team
ECD-3 User has enough rights but cannot create new user accounts
LDP-12 Calendar tooltips not showing enough information anymore (Paramedic, ….)
LDP-9 Current teams of players – always use CLUB teams and don´t include NATIONAL teams
LDP-37 Medical Appointments – Notes during appointments are not saved
OD-50 As a user I want that the scores in shadow team – Globaal niveau – are ranked alphabetically
RWD-122 Synching of U15 and U18 games not correct
SDD-63 User cannot see his My Teams correctly
SHB-5236 Sometimes customers are not fully updated by the deploymaster because of locked dlls of the video import tool
SHB-5272 Editing a document attached to an injury is not working