Release 2019/6
We are happy to announce our 6th Feature Release of 2019 including a bunch of new features, improvements and bug fixes.
If you are a SoccerLAB customer don't hesitate to ask for some extra explanations through the support channels.
If you are not a SoccerLAB customer yet. What are you waiting for ? Contact our sales team now at info@soccerlab.com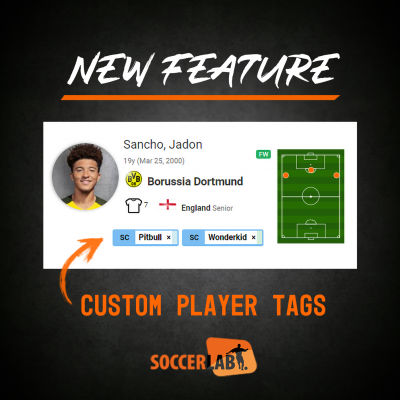 Custom Tags
We enabled custom tags on teams, players, training sessions and games.
Add your own tags or labels in order to filter & search easily for those players you pointed out as a 'wonder-kid' or a training session you labelled as your 'best practice session 4 v 4'  or even tag your latest game as a  'reference game'.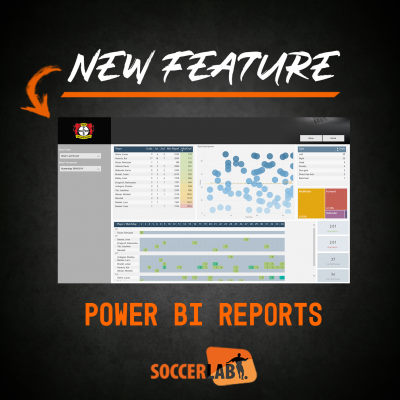 Power BI Reports
New PowerBI reports are now available related to your
games stats,
training attendance
,
trained objectives,
high intensity runs
,
well-being & RPE status, injuries, …

The player comparison report for scouting purposes is our favorite!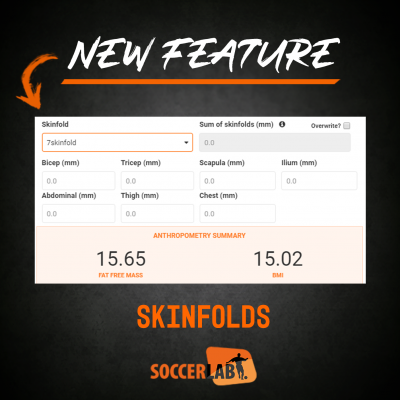 Skinfolds
When creating a new anthropometry record it is now possible to use different skinfold calculations. We have added the possibility to use 7 or 10 skinfolds.
With some UI-tweaks the results are better readible for all users.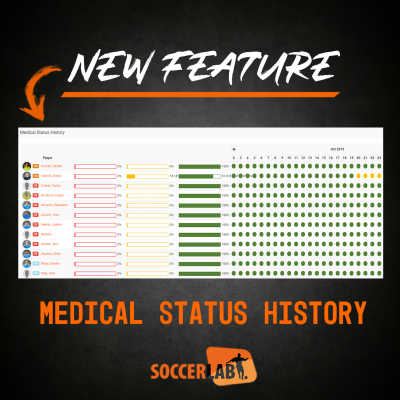 Medical Status History
Within every seasonal team it is now possible to see the medical history of every player in an easy-to-read overview.
By calculating and storing the medical status every day you can see trends in your team immediately.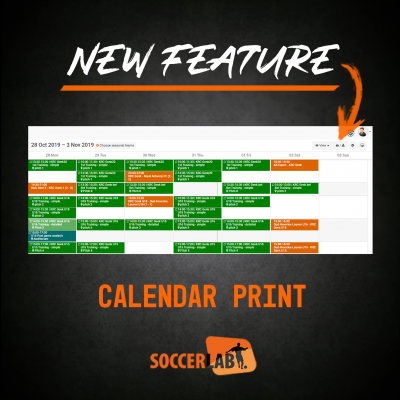 Calendar Print
Our Calendar module has been completely refactored and has an improved user interface and a new set of features.
You can see the calendar in different view modes focusing on teams, individuals or workgroups. With the nice new printing feature it is easy to share the information too.
AA-400 2.5 Widget – Training status player
AA-422 2.2 Widget – Physical profile player – Table
AA-432 1.1 Personal Profile – Add multi-language support to enter the personal profile form
RWD-4 Print Version of Game: Extend the print version by selected KPI´s of the uploaded GPS Data
RWD-5 Select more than one medicine during medicine intake appointments
AA-435 1.4 Personal Profile – Option to reset my password
AA-437 1.6.a Personal Profile – It seems there is something going wrong with the enters in the send email
AA-438 1.6.b Personal Profile – Store the last typed text in the invite and reuse it when inviting again
AA-455 2.3 Widget – Soccer history player (complete solution)
PSG-1 7 skinfold – option to fill in every skinfold seperatly
PCD-47 * Add a filter in the overview of player evaluation that enables to filter on only 'non-regular' players
SHB-3657 Paramedic and Doctor appontment (medical diary) should act the same as "General appointment"
SHB-4921 Extend the custom select directive with a limit option
SHB-4955 * Auto fill in the team name as combination from club and agecategoryname
SHB-4876 When you create an appointment at the row of a player, the user expects the participant to be filled in
SHB-4930 * Scouting – Spider charts – create an option to see the details per category (like in Personal development
SHB-571 My appointment widget – Absence
SHB-4207 Scouting – scout report – show "last known seasonal team" behind selected player is missing
SHB-4444 Team – Performance: add option to ADD performance results from the team overview
SHB-4862 Report templates – options to SHARE is missing
SHB-4974 We need to improve the response of the get calender events for games and teamtrainings
SHB-4802 * UM – TYPES are not sorted
SHB-5024 * Please highlight invalid fields when filling in anthro form
PCD-6 My Appointment Widget – enable an option that appointments, created by a user, can be hidden in this widget
SHB-4301 * In the chat, help the system to detect if an email address is related to a user account when you click on "notification by mail" when you send a message
SHB-5029 * Improce locale export and import
SHB-4378 Personal development – option to show reports in Spider CHARTS
SHB-4577 Player profile – add tags
PCD-15 * Tile "Additional Comments" to be shown also in external player profiles"
SHB-4869 * Widget – Cards per team
PCD-47 * Add a filter in the overview of player evaluation that enables to filter on only 'non-regular' players
SHB-3657 Paramedic and Doctor appontment (medical diary) should act the same as "General appointment"
SHB-4921 Extend the custom select directive with a limit option
SHB-4955 * Auto fill in the team name as combination from club and agecategoryname
SHB-4876 When you create an appointment at the row of a player, the user expects the participant to be filled in
SHB-4930 * Scouting – Spider charts – create an option to see the details per category (like in Personal development
SHB-571 My appointment widget – Absence
SHB-4207 Scouting – scout report – show "last known seasonal team" behind selected player is missing
SHB-4444 Team – Performance: add option to ADD performance results from the team overview
SHB-4862 Report templates – options to SHARE is missing
SHB-4974 We need to improve the response of the get calender events for games and teamtrainings
SHB-4802 * UM – TYPES are not sorted
SHB-5024 * Please highlight invalid fields when filling in anthro form
PCD-6 My Appointment Widget – enable an option that appointments, created by a user, can be hidden in this widget
SHB-4301 * In the chat, help the system to detect if an email address is related to a user account when you click on "notification by mail" when you send a message
SHB-5029 * Improce locale export and import
SHB-4378 Personal development – option to show reports in Spider CHARTS
SHB-4577 Player profile – add tags
PCD-15 * Tile "Additional Comments" to be shown also in external player profiles"
SHB-4869 * Widget – Cards per team
PCD-17 Trainer Role – Make Scouting menu available
PCD-33 Show inside the task tile on the dashboard, how many new tasks are assigned (like we developed for Bayer Leverkusen)
PCD-56 Enable GPS Tab "GPEXE"
PCD-65 Enter values for drop down field "Status" in scotung task tab "Ticketing"
SHB-4764 Doctor/Paramedic Appointment endpoints do not contain all fields for recurrent and all day appointments
SHB-5013 * Invited Users inside Paramedic Appointment are not getting updated after saving the Paramedic Appointment.
SHB-5058 * We get unnesary errors when an end user has no rights on generic tags
FTD-1 Sorting of Teams is not according Age category when creating a game
LDP-9 Current teams of players – always use CLUB teams and don´t include NATIONAL teams
PCD-79 Blank page when selecting 'Evaluations' on internal player profile of non-regular player
SHB-4984 Notification is not sending when we unchecked 'Soccerlab mobile applications'
SHB-5000 Scouting – printing of a report: the print shows a different name of the possition then the position marked on the pitch
SHB-5036 Recurring all day appointments not OK before/after daylight savings time
SHB-5026 Only show users which are active to share objects
AA-491 * The dominant personalia is not visualized in the personal profile widget
BLD-107 * Scout Reports not shown in filters depending where you create a report
SDD-13 Email notifications don´t include the custom message
SDD-28 Manage Anthropometry Data not possible anymore
SHB-4335 Team training – the team training sessions disappears if the trainer/person is not invited himself
SHB-4950 Calendar disapears when double clicking on a block for a new appointment
SHB-5009 * Latest anthropometry values not shown in team anthropometry overview
SHB-5019 * When editing internal evaluations the scores are not displayed anymore
SHB-5020 * Styling on internal evaluations page of a team totally lost
SHB-5021 * Not able to edit player info of external players (at 3 different customers)
WBD-5 Not all measurements are shown, altough they are filled in within the form
AA-497 Solve some translation issues inside the personal profile application
PCD-19 Training Statistics are wrong
PCD-97 * NEW_ New Italian translation
RWD-24 Team-Calendar: inside the team profile and you click on calendar, players are then listed in the view who don´t have any longer a contract and who have left the club – this is wrong
SHB-4982 Too many requests to fetching un-read message count
SHB-4993 System.IndexOutOfRangeException: SendPushNotification
AA-496 * Not possible anymore to do paging
PCD-39 Create a second seasonal tournament inside the same tournament definition not possible
PCD-67 * Game event 1st team not syncing