Mobile Apps Release May 2020
We are happy to announce our Mobile Apps Release May 2020 including a bunch of new features and improvements. Check out Google Play and the App Store for the new versions:
SoccerLAB Coach App 1.4.0
SoccerLAB Player App 1.5.0
SoccerLAB Team App 1.3.0
SoccerLAB Club App 1.0.2
If you are a SoccerLAB customer don't hesitate to ask for some extra explanations through the support channels.
If you are not a SoccerLAB customer yet. What are you waiting for ? Contact our sales team now at info@soccerlab.com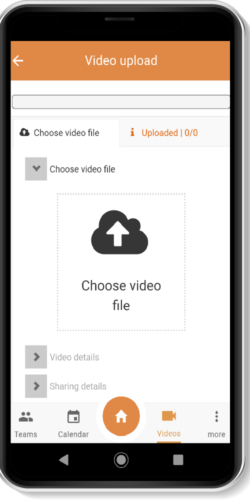 Video Upload Component
Users can directly upload video files from their smartphone/tablet with this new functionality
Available in Coach and Player App
Direct Upload to SoccerLAB
Players are now able to record their homework and share the video with their coaches.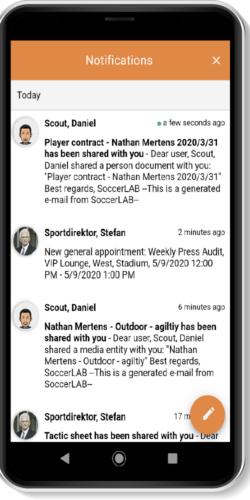 Contextual Notifications
Users receive within their app notifications with which they are automatically directed to the content, e.g. shared videos are directly playing, shared documents are directly opened. This functionality is available for
Shared documents
Shared videos and playlists
Appointments
Tasks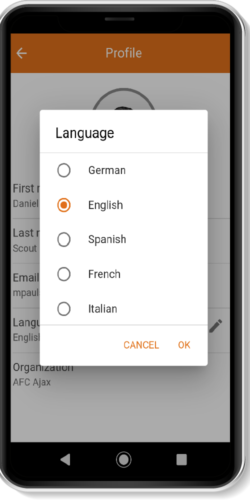 Change user language
A user can change now his personal language within the App directly himself.
NEW IMPROVEMENTS AND GENERAL FEATURES
Calendar: Only appointments according to the rights of a user are shown
Calendar: Check documents and comments added to appointments
Calendar: Download Team Training PDF from your calendar
Notifications: send messages to users and workgroups
Contacts: call and email your players and colleagues directly from your app
Teams: Check the statistics of your teams
Players: Check the availability and statistics of your players
Security: Pin recovery information is added
…
Check our general webinar about the Mobile App:
Using our mobile apps
Michael will present the advantages of our most popular mobile apps and how they support your daily work. He'll highlight the Player App, Coach App, Scout App and Club App during the webinar.
For who? Sports directors, technical directors, youth academy management, coordinators, coaches, head scouts & scouts.
Our release notes showing details about the new features and improvements can be checked here: